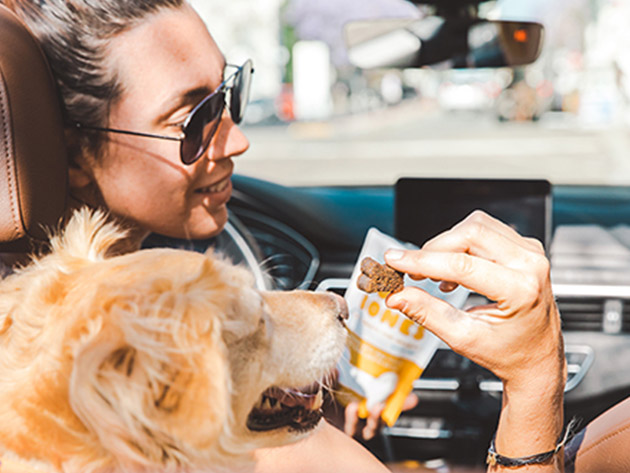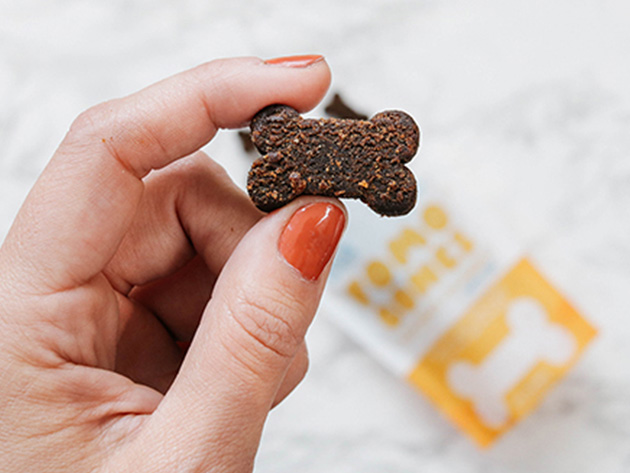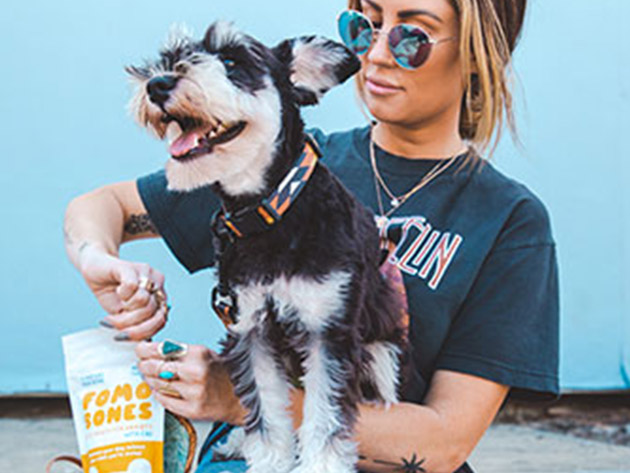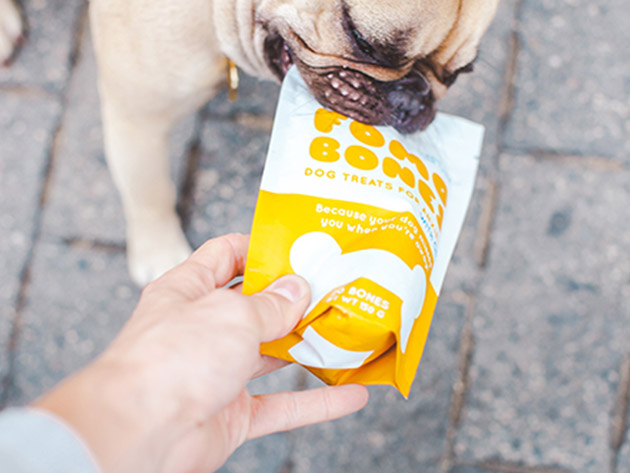 FOMO Bones CBD Dog Treats
by FOMO Bones
Bring the Power of CBD to Your Pup in the Form of a Fun Bone Treat
Description
Made with premium ingredients including chamomile, valerian root, passionflower, and naturally occurring CBD isolate, FOMO Bones are designed to help with your pup's mood, sleep, pain, and digestion. Whether your furry friend gets separation anxiety or deals with inflammation, FOMO bones could be the all-natural answer. There's no THC in FOMO Bone's CBD, so your dog will never feel or act high, confused or disoriented while they get their zen on.


Passion flower: boosts levels of the feel-good chemical known as GABA, which can become depleted after ongoing stressful circumstances, like the mailman.
L-Tryptophan: an amino acid that can make pets extra anxious & overactive when low
Valerian: a type of herbal root that commonly used as a sleep aid but is also know for its anti-anxiety capabilities
Chamomile: used to soothe nerves & lull people to sleep, and it can help w/ insomnia, stomach, and digestive distress too
CBD isolate: an all-natural cannabinoid supplement made from hemp oil that's been refined down to pure CBD
Specs
Specs
20 treats per bag
5 mg CBD per bone
Made in an FDA-registered facility
GMO-free and pesticide-free
Ingredients: Passion Flower, L-Tryptophan, Valerian Root, Chamomile, CBD Isolate, Rice Bran
Other ingredients: Rice Bran, Cane Molasses, Tapioca Starch, Purified Water, CheesePowder, Soy Lecithin, Safflower Oil, Glycerin, Natural Beef Protein, Bacon Flavor, Mixed Tocopherols, Sorbic Acid, Ascorbic Acid
Hemp stalk derived?: yes
Hemp extraction source: CO2
Side effects: none
Recommended daily dosage: 1-2 bones
Expiration date: May 2021
Directions: Feed it as a treat. Small dogs 10-15 pounds can have one bone a day. Bigger dogs 20+ pounds can have two bones a day. (If your dog is smaller than 10 pounds they can still use the treats. Try breaking a bone in half, and giving just one half a day.)
Note: If your dog has any health conditions or is on any medication please consult with your doctor first. This treat is for dogs only.
Note: CBD works instantly. But it takes more than one or two treats to really see continuing results. Typically it takes 5-7 days for it to build up in your pup's system and be effective.
Includes
FOMO Bones CBD Dog Treats
Informational packet
Customers must be 18+ to purchase. Hemp derived. Non-psychoactive. Does not contain THC. These statements have not been evaluated by the FDA and are not intended to diagnose, treat, or cure any disease. Always check with your physician before starting a new dietary supplement program. It's the buyer's responsibility to obey by all applicable local, state, and federal laws.
Shipping
Ships to Contiguous US
Expected Delivery: Oct 11 - Oct 14
Terms
Offer is not eligible for purchase via PayPal. A credit or debit card is required to complete this transaction.
All sales final