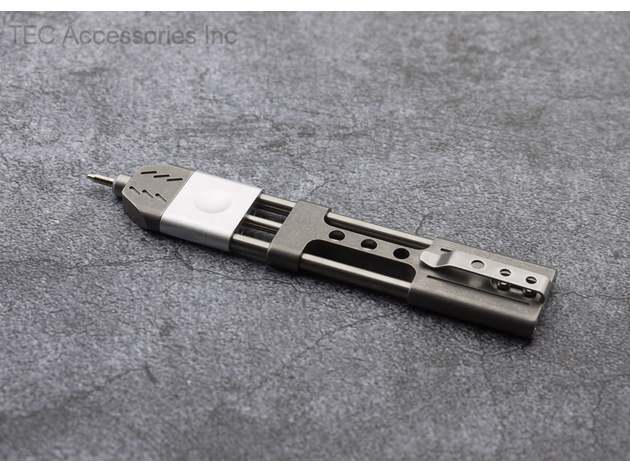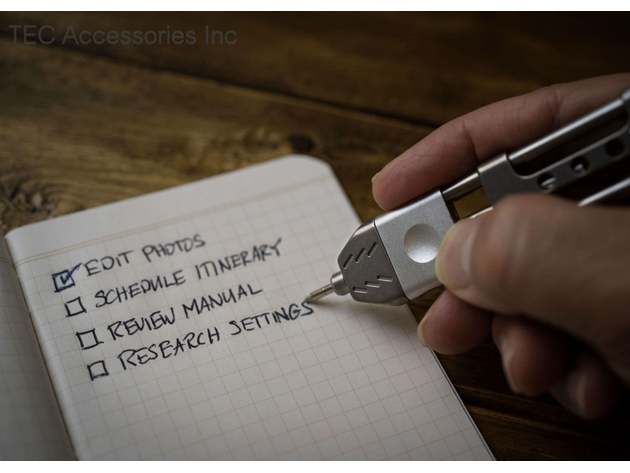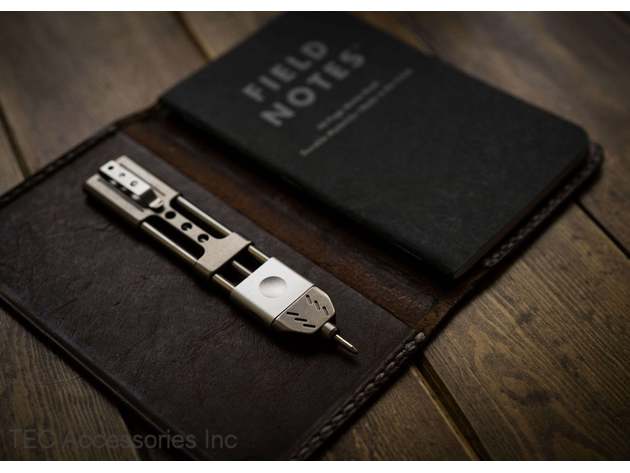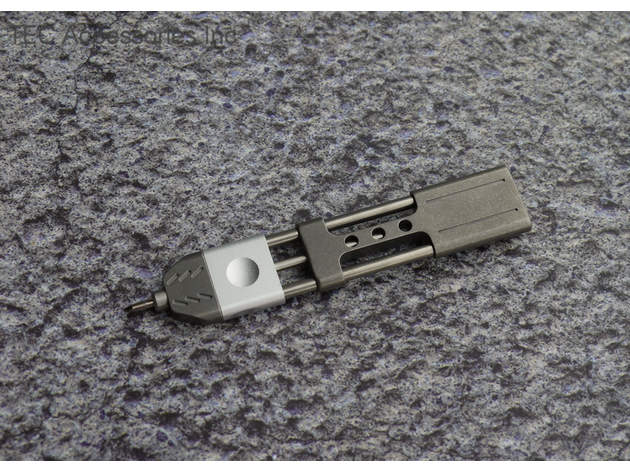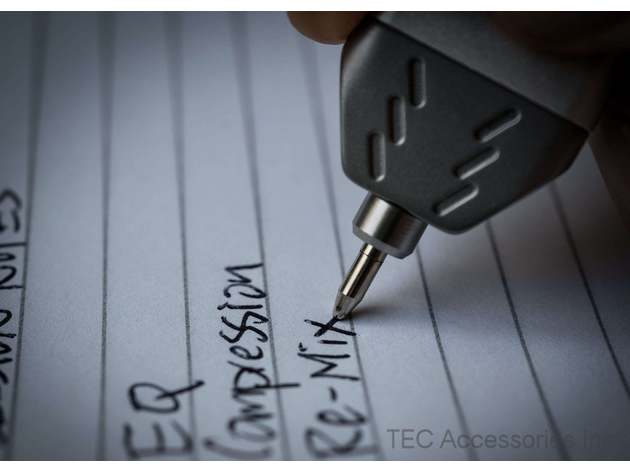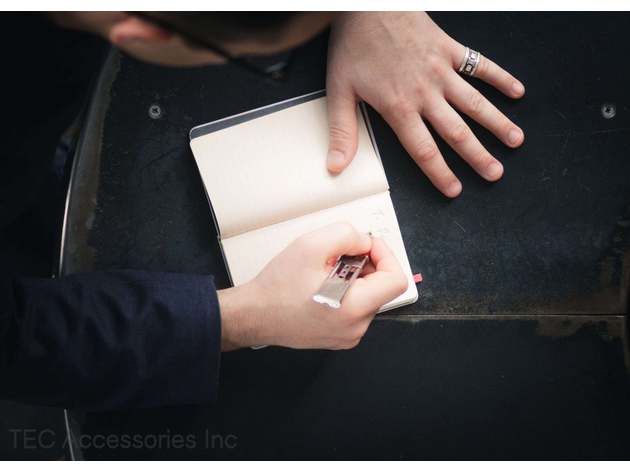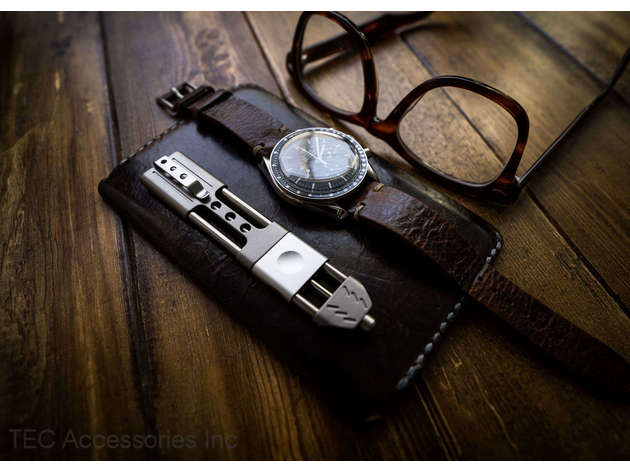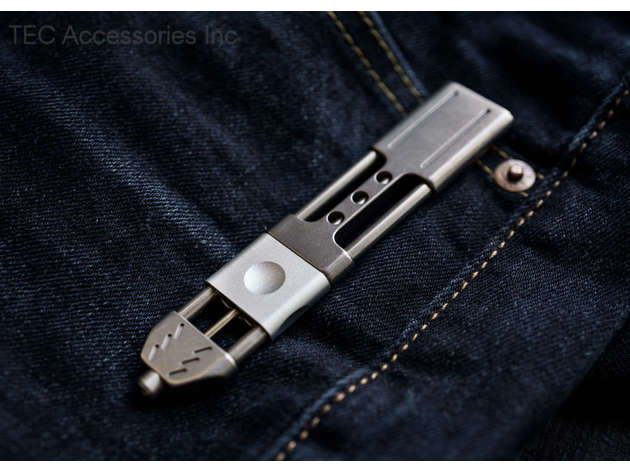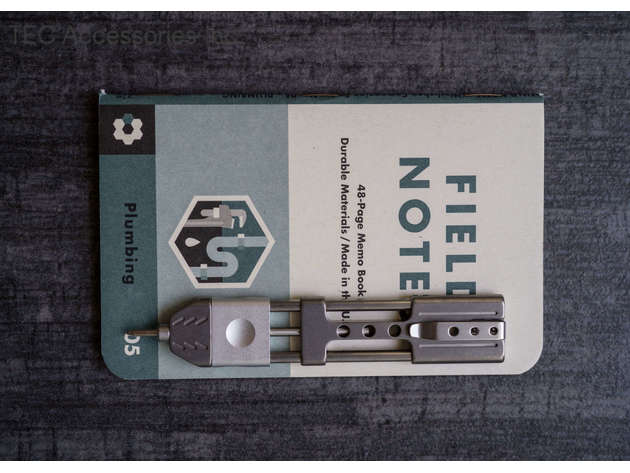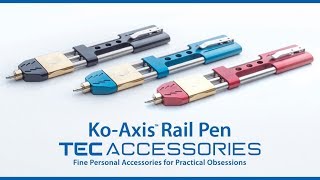 Ko-Axis Rail Pen - Titanium Edition
by TEC Accessories
Specs
Abandoning the cylindrical shape of a traditional pen, the Ko-Axis Rail Pen leverages the benefits of a flat, wide, rectangular geometry for unparalleled writing comfort and ultra-low profile carry.
Rather than cramping your fingers around a thin cylindrical shaft, you can embrace your writing instrument in a more natural way that provides long term comfort with less tension on your fingers. The 4-1/2" length is optimized to deliver a fluid writing experience in your hand, yet be incredibly compact for convenient everyday carry.
The magnetic twin-rail mechanism used to extend and retract the ink refill eliminates the need for a separate cap. Combined with an instant, no-tool refill replacement method, the Ko-Axis Rail Pen will always be your pen of choice. Its elegance, comfort, and simplicity will make you wonder why this never happened sooner.
This titanium edition has 25% more mass than its aluminum brother providing a solid and comfortable resilience that will last a lifetime, and is offered in a beautiful semi-stonewashed finish.
Key Features
Flat geometry:The rectangular shape provides comfort during long writing sessions
6 mm low-profile body (less than 1/4" thick) for discrete storage when carried or clipped
The perfect pen to accompany journals, notebooks, diaries, etc.
The embedded micro socket provides an "Instant", no hassle refill replacement that does not require tools: pull-to-remove/push-to-insert
Accepts a wide variety of commonly available D1 stylus refills, including Fisher pressurized refills (in case you want to write upside-down)
Unique, twin-rail skeletonized body is strong, lightweight and will make heads turn
Magnetic actuation and retention mechanism
Balanced design for the ultimate writing experience
No possibility of accidental ink retraction during use
Flat, anti-roll design stays where you put it
Symmetrical profile allows for identical writing comfort for both right and left hand usage
Assembled from 24 individual, custom machined and critically selected components, to ensure a high quality, bulletproof pen that will last a lifetime
What you get:
Ko-Axis

Rail Pen

Integrated pocket clip

Premium Monteverde D1 ink refill
Specifications
Refill Actuation: Magnetic Push/Pull
Refill Replacement: Pull-to-remove, Push-to-insert
Weight: 56 grams (2 oz)
Size: 6 mm x 109 mm x 22 mm (.236" x 4.29" x 0.866")
Height with clip: approximately 8.77 mm (0.35)
Finish: Parts are tumbled and deburred, then tumbled again to a semi-stonewashed finish
Materials:

Body: Aerospace grade

Ti-6Al-4V titanium

Guide rails: Solid stainless steel precision rod
Slider: 6061-T6 aluminum with a clear anodized finish

Pocket clip:301 stainless spring steel

N52 Neodymium magnets with the highest magnetic strength/size ratio available
Finish
The Ko-Axis Rail Pen is manufactured from a variety of materials to provide optimized functionality as well as a distinctive aesthetic. All components used in the production of this writing instrument go through a series of finishing processes including tumbling, polishing, and bead blasting.
Dimensions
The following dimensions are in millimeters [inches]:
Details
Form Factor
We've designed the Ko-Axis with a purpose-built, distinctive shape, sparing no detail. The comfort and ergonomics that were considered in the design phase are unparalleled, resulting in a truly unique writing experience. These features create an aesthetic that turns heads. All of these features have been packed into a pen so thin that it easily hides in any notebook. Be warned: once you write with the Ko-Axis, you will never go back to a conventional pen.
Actuation
Upon closer inspection of the Ko-Axis Rail Pen, you will discover that the aluminum grip slider contains the ink cartridge.By implementing this clever design, it is impossible for the pen to accidentally retract while writing. The ink refill is always present when you need it and never when you don't.We have painstakingly integrated eight ultra-strong neodymium magnets into the end stop positions to ensure perfect engagement, and eliminate any potential for movement of the mechanism while writing.
Writing Experience
The Ko-axis isnt just a beautiful writing instrument, it transforms the act of writing into a wonderful experience. From the first time you extend the ink refill, youre hooked. The rectangular shape of the Ko-axis rests gently in the crease of your hand and lands comfortably in your thumb-and-finger pinch. The shallow divot in the aluminum slider offers the perfect spot for your pointer to land every time. The weight distribution of the pen was carefully calculated to rest in your hand without applying any torque to your fingers that would tire your hand in a late-night writing session. The Aluminum Edition is the featherlight member of the Ko-Axis family. The aluminum body allows the pen to float effortlessly across page after page. The Titanium Edition has 25% more mass than its aluminum brother, providing a solid and comfortable resilience that will last a lifetime. Every titanium model affords a rock-solid, stable action and exudes confidence in every word it writes.
Refills
The Ko-Axis Rail Pen includes a Monteverde D1/Multipen refill, which we think is the best refill on the planet. This medium point, black ink refill is the perfect way to experience everything the Ko-Axis has to offer. It features Soft Roll ink technology which is a low viscosity ink for the smoothest writing experience, with a high quality nickel silver tube and a Swiss tip.
However, any D1 style refill will work in the Ko-Axis, including but not limited to the following:
Schmidt 635 Mini D1
Lamy Mini Ballpoint Refill M21
Kaweco D1
Monteverde D1/Multipen
Parker D1
Zebra Sharbo X Gel Ink Multi Pen/D1
Zebra ESB-0.7 Emulsion Ink Ballpoint Pen Refill - D1
Ohto R-4C7NP Needle-Point D1
Rotring D1 Multi Pen
Fisher mini ballpoint refill with adjustable lengths (shortest length)
Shipping
Ships to US
Expected Delivery: Dec 18 - Dec 22
Terms
Returns accepted within 30 days of shipment for orders within the Contiguous US.