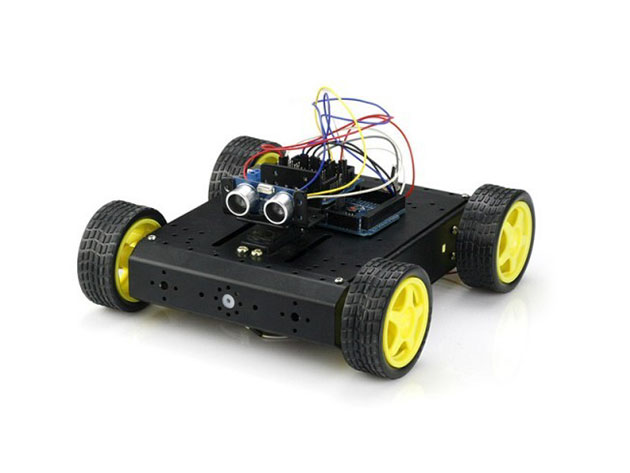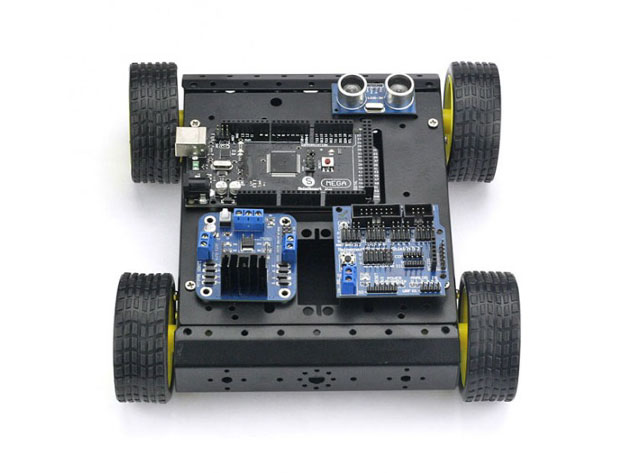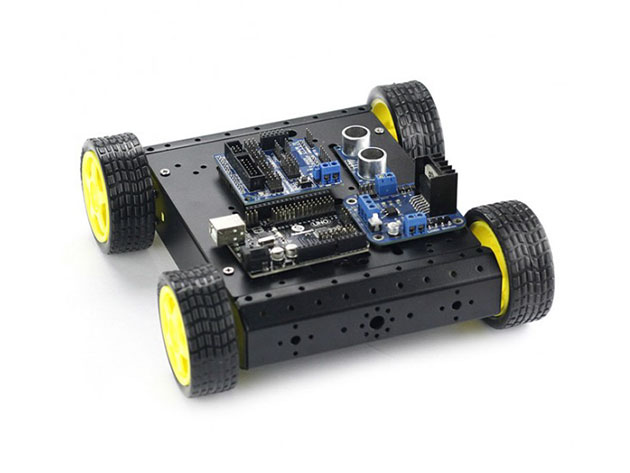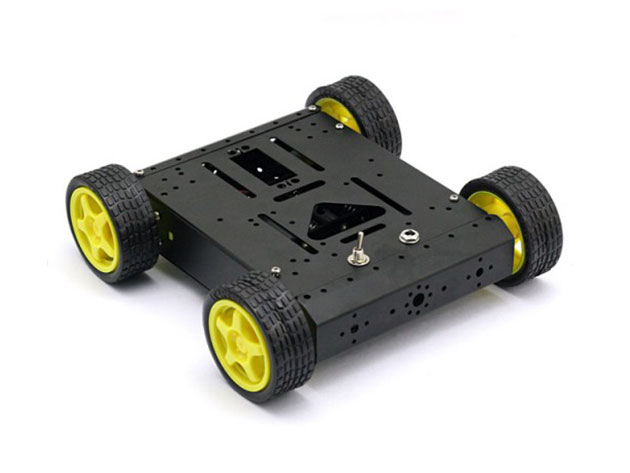 by SainStore
Discover the Excitement of Robotics As You Build Your Own Arduino Robot Car
Description
Robotics can be a difficult hobby to jump into, but Arduino and the 4WD Robot Platform make it easy for you to build a complete robot with ease! By utilizing some Arduino components, this combo helps you learn the basics of robotics, applications of Arduino, and the building process as you construct a real robotic car.
MEGA 2560 microcontroller board has ability to control car while connected to a computer
Arduino Sensor Shield allows you to connect to various modules like sensors, servos, relays, buttons, potentiometers, & more
Latest 4WD aluminum mobile robot platform holds many controllers, drivers, sensors, & RF modules
Specs
Details & Requirements
MEGA 2560 Board:

54 digital input/output pins (14 of which can be used as PWM outputs)
16 analog inputs
4 UARTs
16 MHz crystal oscillator
USB connection
Power jack
ICSP header
Reset button
L298N Dual H Bridge DC Motor Driver IC:

Terminal supply area of driven part Vs: +5 V ~ +35 V; such as the need to take power within the board, the supply area Vs: 7V ~ 35V
Peak current of driven part Io: 2A
Terminal supply of area the logical part Vss: +5 V ~ +7 V (can take power within the board +5 V)
Operating current range of the logical part : 0 ~ 36mA
Control signal input voltage range:

Low:-0.3V ≤ Vin ≤ 1.5V
High: 2.3V ≤ Vin ≤ Vss

Enable signal input voltage range:

Low: -0.3 ≤ Vin ≤ 1.5V (control signal is invalid)
High: 2.3V ≤ Vin ≤ Vss (control signal active)

Maximum power consumption: 20W (when the temperature T = 75 °C)
Storage temperature: -25 °C ~ +130 °C
Driver board size: 55mm x 49mm x 33mm (with fixed copper pillar and the heat sink height)
Driver board weight: 33g

Distance sensor:

Power supply: 5V DC
Quiescent current: < 2mA
Effectual angle: < 15º
Ranging distance: 2 cm - 500 cm
Resolution: 0.3 cm
Includes
SainSmart MEGA 2560
SainSmart Sensor Shield module V5
SainSmart 4WD drive aluminum mobile car robot platform
SainSmart L298N Dual H bridge DC motor driver
SainSmart ultrasonic module HC-SR04 distance sensor
Shipping
Ships Internationally
Expected Delivery: Oct 18 - Oct 21
Expected International Delivery: Oct 18 - Oct 21
Terms
Returns accepted within 30 days of shipment for orders within the Contiguous US.