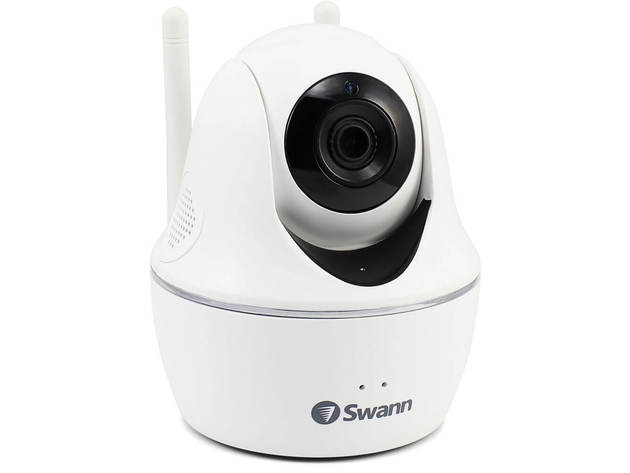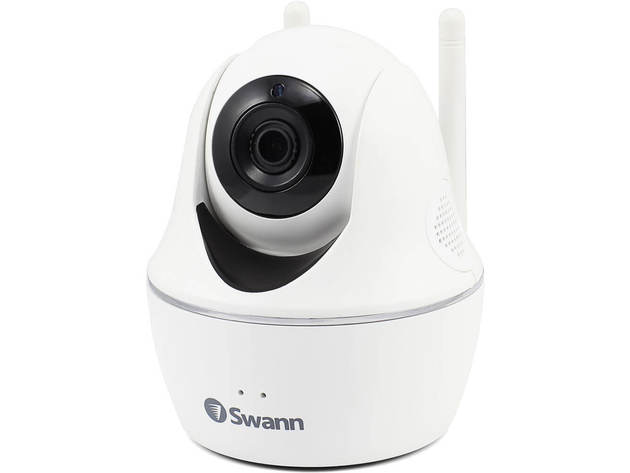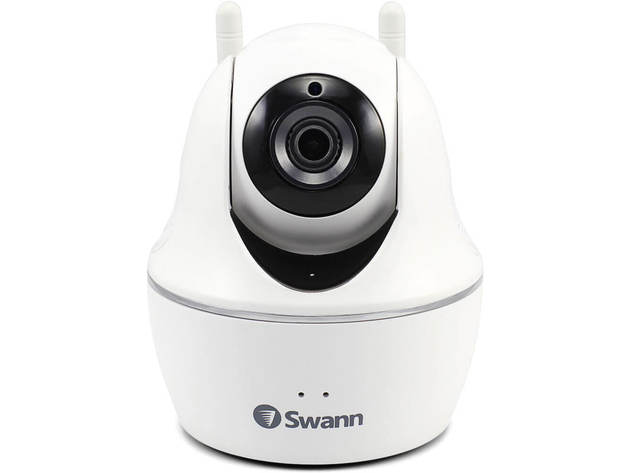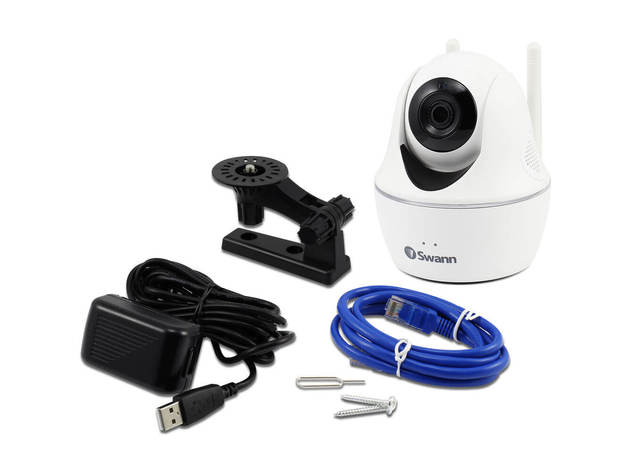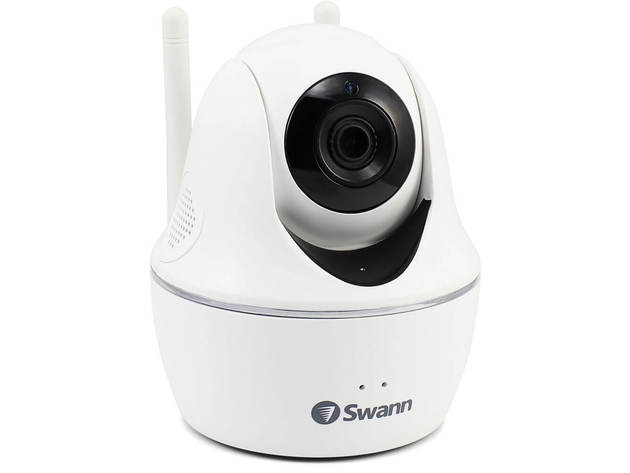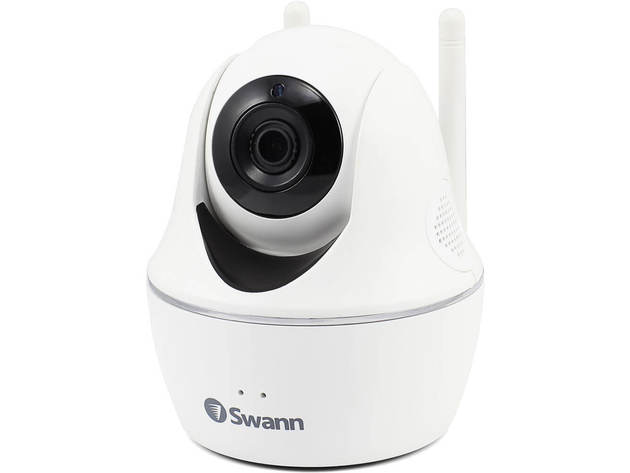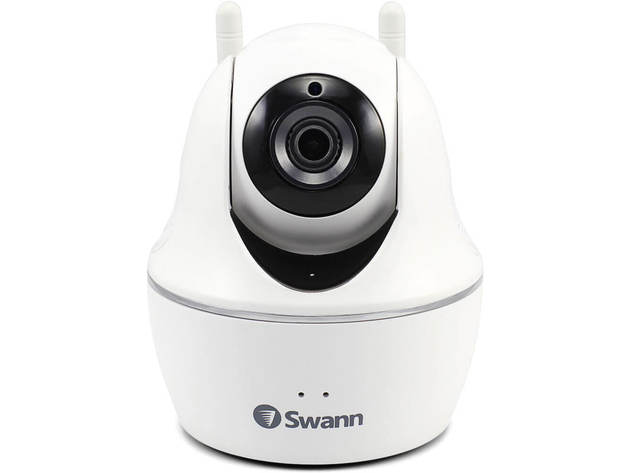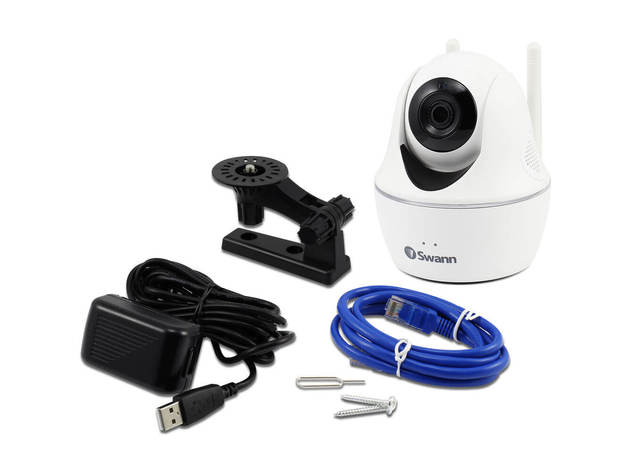 Swann SWWHDPTCAMUS Wireless Full HD Pan & Tilt Security Camera
by Swann
Description
Compact Indoor Home Surveillance Camera
Full HD 1080p Recording with Audio
Live Monitoring from iOS/Android App
355 Pan / 105 Tilt Movement
Mic & Speaker 2-Way Audio Communication
Storage up to 64GB microSD Cards
50 ft Night Vision
Desktop or Wall/Ceiling Mount
Supports 2.4 and 5 GHz Wi-Fi Frequencies
80 Angle of View
Specs
The Swann Pan & Tilt Security Camera features a 1080p wireless indoor camera with the ability to pan 355 horizontally & tilt up and down 105. Control the camera directly from your phone or use the two-way communication to talk with anyone who might be at home while you're away. Plus with night vision up to 50ft you can rest easy knowing you have 24/7 protection.
Plug. Play. Go. It couldnt be easier
As soon as you plug the camera to the wall voice prompts will guide you from its built-in speaker. Youll only need to download the AlwaysSafe app and follow the steps to connect the camera to your local Wi-Fi network. Youll then be able to instantly view & control the cameras movements from your smartphone from wherever you are in the world. Install as many as you want and see all your cameras on the same AlwaysSafe app.
Pan & Tilt: Move it up & down left & right with your phone
In addition to its already super wide 80 degree viewing angle this camera is motorized and allows you to pan & tilt that is you can make it move left and right up to 355 degrees & up and down 105 degrees by controlling it from your phone with the AlwaysSafe app even if you are in the other side of the world so that you can have a full view of whats happening.
View record listen & talk to interact
With the built-in speaker you can also talk back to interact with people at home like family kids babysitter tradespeople & even your pets. You could even catch someone in the act and speak back to scare off any intruders. Audio adds yet another valuable layer of evidence to your video surveillance as it could possibly lead to further identification such as distinguishing someones voice or capturing arguments or verbal abuse.
Incredibly crisp night vision
Youll be amazed with this cameras superb night vision. See in the dark up to 50ft (15m) with the cameras powerful infrared night vision that produces crisp black and white images. The camera senses the amount of light in the environment and automatically switches to night vision if lighting conditions are too low.
Go beyond security applications
Thanks to its plug-and-play design you can also use the camera for different purposes other than security.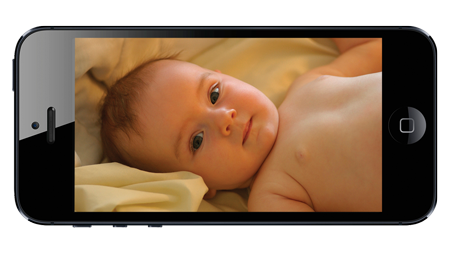 Nanny Cam
You can attach the camera to a shelf or wall using the included hinged mount so you can use it as a baby monitor. You can listen & talk to baby thanks to the built-in microphone & speaker.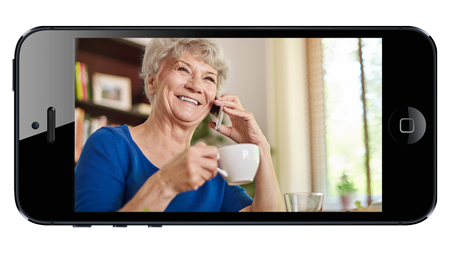 Elderly Family Member
Some people prefer to live in the comfort of their own home even when they need care. You can view listen & talk to your family member even if theyre miles away.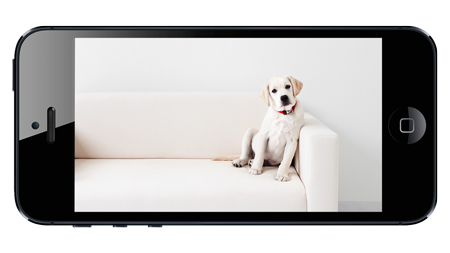 Pet Cam
Have a peek at your pets secret life while youre at work! Catch save & share those funny moments. You can even call to them thanks to the built-in speaker & microphone.
Scare off intruders with the motion activated siren
Thanks to its speakers the camera can also double as an alarm to scare off any intruders. Just enable it via the app and schedule the motion activated siren to go off at specific times throughout the week. A great preventive feature that can save you a lot of headache.
Motion Detection email alerts with video clips
You can set the camera to email you when it senses motion and attach a low res video clip or photo of the event with the ability to schedule when alerts should be sent. You can even create a free webmail account and use it as a cloud storage which can be really valuable in case anything bad happens to your camera.
Security for everyone including apartments & renters
Plug-and-play you only need to plug the camera into a power outlet and thats it no additional cables to run as connection to the network router is wireless and footage is recorded to the local micro SD card (not included) meaning there are no cables to run to a DVR either. You can mount it with the included hinged mount or leave it on a flat surface making it suitable for everyone including houses apartments business & rental properties.
Mount it to the wall ceiling or leave it over any flat surface
The camera comes with a hinged wall/ceiling mount so that you can adjust the angle that best suits you in addition to the cameras pan & tilt abilities. Mount it to the wall or ceiling to have a view from above or leave it on a flat surface if you intend to use it as a pet camera a baby monitor or wish to capture peoples faces at their eye level.
Share your cameras access with others in your household
Weve made it easysimply install the AlwaysSafe app on their smartphone open the app then tap + and scan the QR code on the back of the camera. The app will automatically pick up your camera. From here on your camera can be viewed at any time from their smartphone.
Expand your surveillance by adding cameras
Add as many cameras as you need to cover all the areas of your property that need monitoring while enjoying the convenience to see and manage all of them within the same AlwaysSafe app.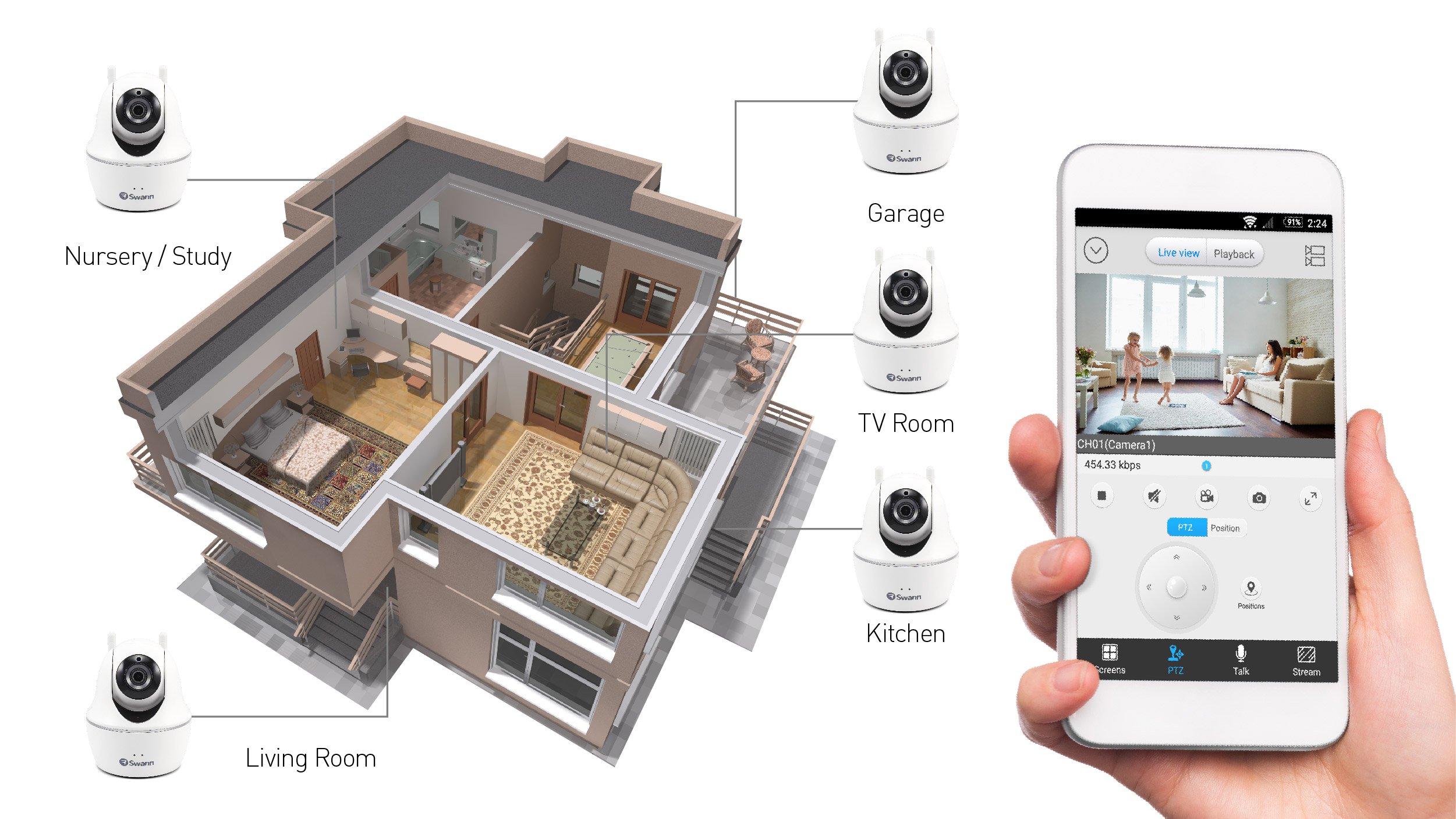 Choose your wireless range 2.4GHz or 5GHz
The camera supports both 2.4GHz and 5GHz Wi-Fi networks. Try experimenting with both bands to see which one gives you better performance. As a general rule the 5GHz band has a shorter range but is great for high bandwidth activities like online video streaming. The 2.4GHz band is better for long range but is more prone to interference from other wireless devices as this is the most popular range used by most wireless devices.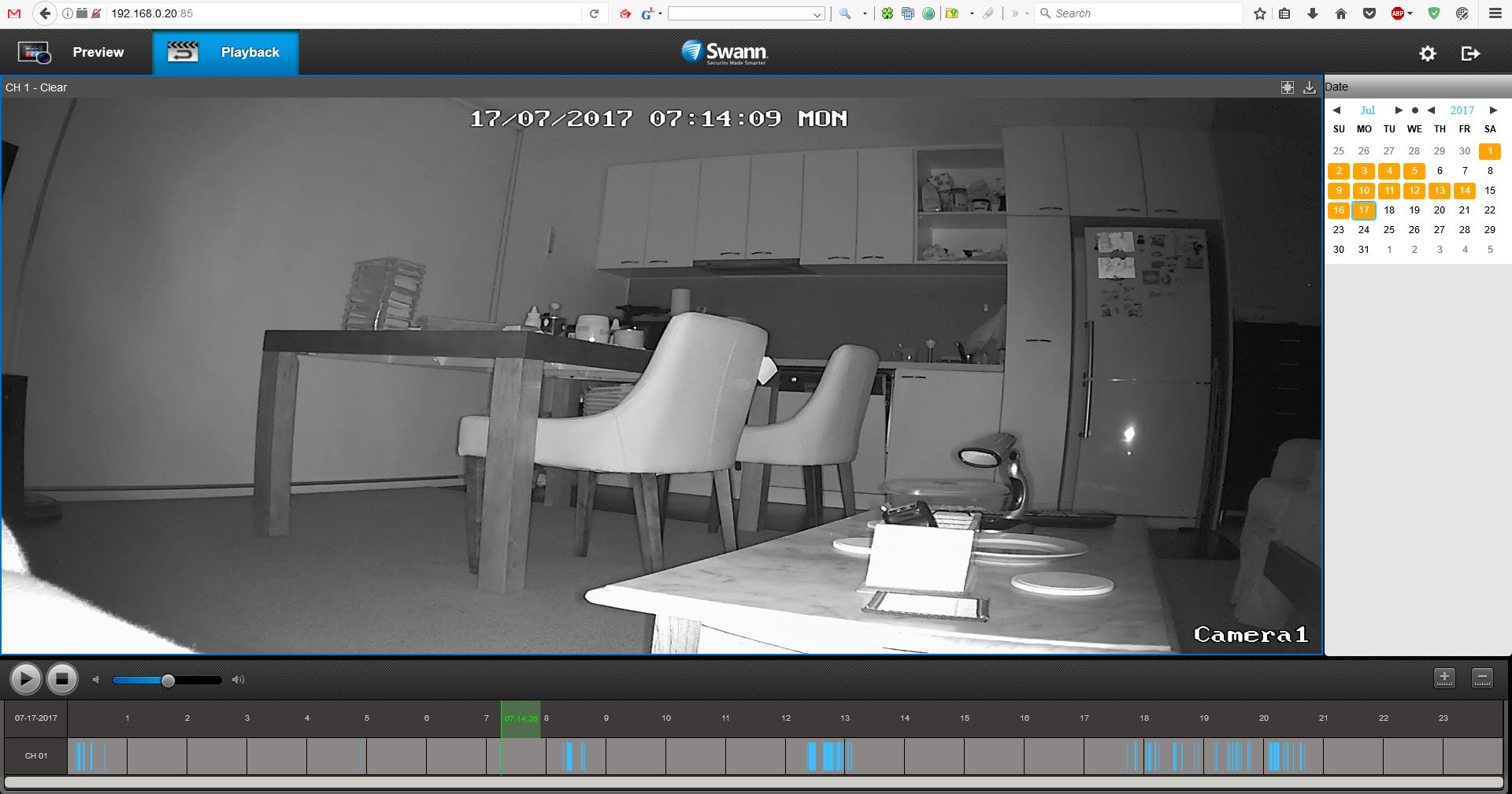 Rich web interface via local network
Access camera settings via the web browser on your computer to browse through your recordings control camera movements download video files and much more. Just look up the cameras local IP address on the app and type it on your browser followed by port 85 for example: http://192.168.0.20:85 then you just type admin for the username and the password you created via the app when setting up the camera.
AlwaysSafe by Swann App
Security in the Palm of your HandsCheck on your Security System from wherever you are. See Live View of your cameras. Playback video clips. Save clips to your phone. Listen & talk back.
Control the cameras motorized movements from the app
Playback stored recordings on your mobile device
Capture video from cameras live view to playback later
Capture single and multi still images to save to your device
Supports multicamera viewing at the same time
Shipping
Ships to Contiguous US
Expected Delivery: Jun 4 - Jun 8
Terms
Returns accepted within 30 days of shipment for orders within the Contiguous US.